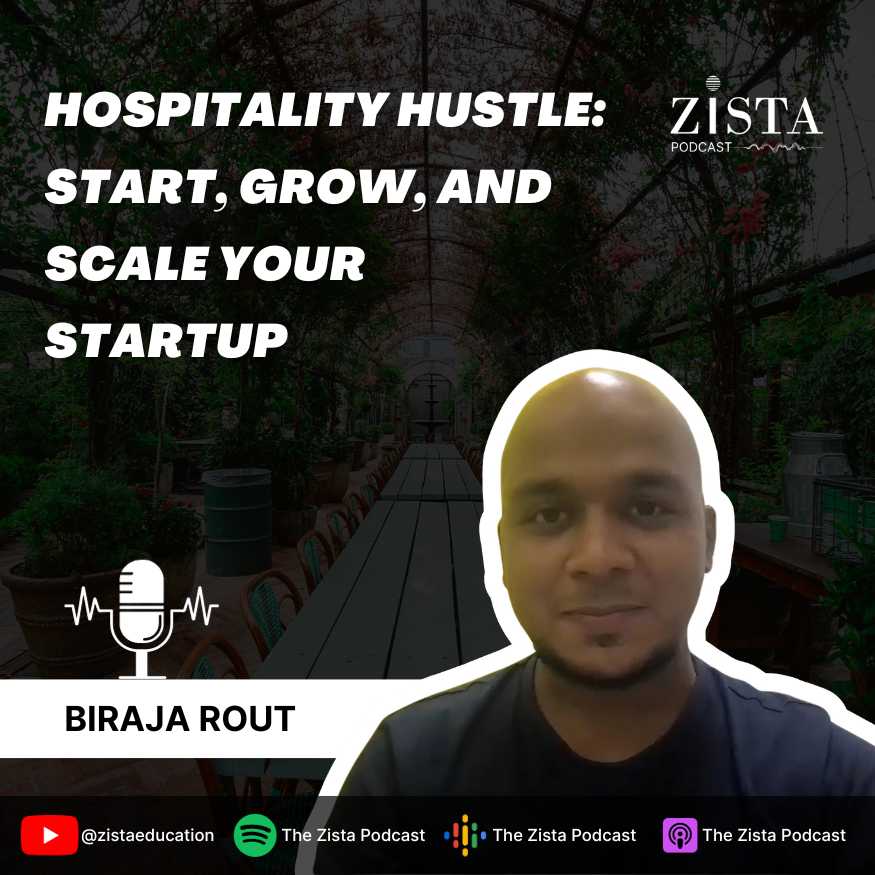 Hospitality Hustle: Start, Grow, and Scale your Startup.
Welcome to the latest episode of The Zista Podcast. Today, we're exploring the challenging yet rewarding domain of food startups, with a special focus on the Quick Service Restaurant sector. It's about more than just delicious food—it's about business acumen, determination, and innovation.
We're joined by Biraja Rout, founder of Biggie's Burger. From its initial days as a small kiosk to now being a prominent name across several cities in India, his story offers a first-hand look at the challenges and triumphs of the food business. In our conversation, we'll explore Biraja's inspiration, the growth of Biggies Burger, and the nuances of making a successful transition from one industry to another.
If you've ever wondered about the real grind behind the glamor of starting a food business, this episode is your backstage pass.
Welcome to the latest episode of The Zista Podcast. Today, we're diving into the world of the 'Hospitality Hustle', specifically the intricacies of starting, growing, and scaling a food startup, with a special spotlight on Quick Service Restaurants.
Joining us is Biraja Rout, the mastermind behind Biggie's Burger, which began as a humble kiosk but has since spread its flavorful footprint across numerous Indian cities and now has its sights set on the international market.
In our conversation, we'll explore Biraja's inspiration to introduce a unique burger chain in India, the strategies that propelled Biggies Burger to its current stature, and the challenges he encountered transitioning from an IT background to the fast-paced food business. We'll also get a glimpse into how he broadened his menu offerings while maintaining consistency across different outlets, and to wrap things up, Biraja will impart some invaluable advice for budding entrepreneurs eager to make their mark.
So, if you're keen to understand the DNA of a thriving food startup, this episode is packed with real-world lessons, straight from someone who's lived it.
KEY TAKEAWAYS 
Identifying gaps in the local market emphasizes the importance of market research, spotlighting untapped opportunities and unique niches in the F&B sector.
Actively seeking and implementing feedback can lead to improved products and services, ultimately enhancing the customer experience.
Embracing franchising as a growth model reveals the significance of having a standardized and replicable business model. This insight emphasizes how crucial scalability is for aspiring entrepreneurs aiming to extend their brand's footprint, especially in the competitive F&B sector.
The holistic approach to branding, going beyond just the product, broadens one's understanding of brand dynamics. It highlights that in the F&B world, aspects like ambiance, strategic promotions, and brand activities are equally, if not more influential in crafting a brand's image and allure.
Whether it's product quality, taste or service, ensuring a consistent experience across different outlets is paramount in scaling a brand.
QUESTIONS
Q1: What inspired you to start your burger chain in India?
A: Biraja's inspiration dates back to 2011. He's from Odisha, an eastern state in India where burgers weren't common then. To him, burgers represented global influence. He noted that many cities in India still don't have a McDonald's. When brands expand in India, they typically start in major cities and then move to smaller ones. At 21, while living in Odisha, Biraja hadn't tasted a burger. This changed when he got his first IT job at Infosys in Bangalore. There, he discovered burgers and saw the excitement around them. He wondered why there wasn't an Indian brand offering burgers. Instead of aiming to open numerous outlets, his vision was to introduce a burger chain that merged the core of burgers with an Indian flavor. Facing challenges and aiming for steady growth, he's now a notable name in the industry.
Q2: How did Biggie's burgers scale its business?
A: Biraja notes that entering this field, unfamiliar as he was with the industry, meant everything was a blend of novel experiences. Originating from an IT background in 2011, he brought a different perspective. He viewed the venture not strictly as a food & beverage enterprise but as a standardized food operation. Rather than immediate profits, Biraja's focus was on building Biggies Burger as a recognizable brand.
He recognized the potential in franchising, inspired by global giants like Subway, Starbucks, and KFC. Biraja's personal journey, transitioning from an IT role to launching his venture, fueled his ambition to create a franchise network. The concept of franchising wasn't initially on his radar, but an inquiry at one of his stores about franchising possibilities set him on this path. This pivotal moment led to the growth from a single kiosk to multiple outlets.
Biraja believes in the power of standardization. If a business model is standardized, it naturally attracts franchise interests. This standardization was further streamlined in his outlets. Instead of traditional kitchens, his stores feature what he terms "assembly units." Here, products remain unchanged, and employees simply assemble and serve. This approach, being both cost-effective and consistent, aids in scaling.
Franchising requires a consistent approach. The key, according to Biraja, is to have a replicable and efficient model. When setting up a franchise, it's essential to remember that the new operator might not have a food & beverage background. The process should be as straightforward as running a regular retail store. Even with his IT roots and lack of restaurant management experience, Biraja's determination, combined with a clear process, set the stage for a franchisable business.
Q3: What were the challenges faced while shifting from an IT background to a food business background?
A: Biraja emphasizes that his driving force has always been to build a recognizable brand. The connection people made between him and his brand was profound, and it's this bond that anchored him through the tough times. There were financial hurdles; managing funds and ensuring timely payments to vendors were particularly challenging. However, the attachment to the brand he had built, coupled with customer appreciation, motivated him to push forward daily. Venturing into the F&B sector in unfamiliar territories with fresh competition was demanding, but it was also a valuable learning experience. He believes that these challenges gave him the insight and determination that has helped him reach the position he now holds in the F&B and QSR industry.
Q4: How did you expand your stock keeping unit as you started launching new burgers?
A: Biraja recounts that their debut product was the "Beamer", akin to KFC's Zinger or Burger King's Whopper. Unique to India, Beamer was a baked grilled burger, using only the meat's fat to cook the patty, eliminating the need for added oil. Initially, their menu showcased variations of the Beamer – single, double, and triple – and that was their offering for two years. As they honed in on grilled burgers, a distinct customer segment emerged, desiring add-ons like chicken wings or drinks. Operating from a kiosk and pricing a grilled burger at Rs. 199 or Rs. 159 posed challenges. This led to a shift towards physical units, offering seating for customers. Later, they diversified by introducing milkshakes to their drinks menu. Biraja says their evolution was driven by customer feedback and expectations. Throughout, they ensured their grilled burgers remained the core USP (unique selling point), striving to offer a product that stood out in the market.
Q5: How did you expand and scale your menu in numerous outlets?
A: Biraja emphasizes the importance of consistency across all outlets. When introducing a new menu item, they roll it out in phases over three months, region by region. This staggered approach allows them to gauge any logistical issues, staff feedback, and, most importantly, customer response. It's more of a batchwise menu launch, as opposed to introducing items simultaneously in every outlet.
Q6: What advice would you give entrepreneurs who are looking to create their own brand?
A: Biraja highlights that the F&B sector is incredibly competitive, so mere quantity and attractive packaging won't cut it. Success hinges on adhering to key principles: ensuring consistent product quality, displaying resilience and patience, conducting thorough market research, and aligning offerings with the demands of your target demographic. It's not just the taste that matters, but also the ambiance, brand-related activities, and the strategic promotion of your brand. In his view, a triumphant F&B brand is built on 20% product consistency and 80% effective business execution.